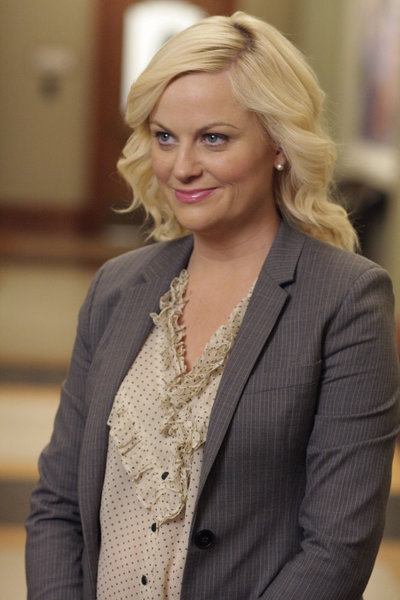 Amy Poehler as Leslie Knope
"It's a great time to be a woman in politics… Get on board and buckle up, 'cos my ride's gonna be a big one."
In the Parks and Recreation pilot, Leslie Knope made clear the extent of her political ambitions. But it was also clear that she was deluded. The Deputy Director of a tiny government department in the fictional small town of Pawnee, Indiana, she earnestly compared herself to Hillary Clinton and Sarah Palin. She forged ahead with a plan to build a park in a lot abandoned by a developer, against the advice of her senior colleagues, and when investigating a dangerous pit in the middle of that lot, she fell in. "She's a little doofy," Rashida Jones' Ann spelled out, just in case we hadn't got the message.
There were few clues back then that Leslie would become one of the most endearing sitcom characters of all time, let alone a feminist icon. In fact, the character TV critics drew the most comparisons with was Michael Scott from
The Office
. This was understandable, given that, like
The Office
,
Parks and Rec
was created by Greg Daniels and Michael Schur, is filmed in a "mockumentary" style, and in season one, had a dry humor that encouraged us to laugh at, not with, its characters. It got
a lukewarm reception
, perhaps because no one wanted yet another cynical sitcom.
Thank goodness then, that in season two the Leslie we know and love emerged. Still an idealist, but with a strong practical streak and the ability to get things done. No longer mooning over a long-ago office-mate tryst, but having an actual love life. She's not optimistic because she doesn't know better, but because she chooses to be, as a survival mechanism. Instead of considering her an affable fool, her now-best friend Ann tells her she's, "Cool, sexy, funny, and smart."
She's also competent: she not only gets that park built, she re-instates Pawnee's harvest festival, bringing in thousands of dollars in tourism and new business, and saving her department in the process. We start to see that maybe her earlier pronouncements were prescient: why *shouldn't* Leslie Knope be the first female president?
Yet (
for what the term is worth
) she's no Mary Sue: Leslie has flaws, including an obscenely messy house, a horrific dating history ("A guy invited me to a beautiful picnic with wine and flowers and when I tried to sit down, he said 'Don't eat anything, Rebecca's coming.' And then he broke up with me.") and a dorky past, which only make her more appealing. It's a credit to both the writers and Amy Poehler's acting skill that Leslie is a believable character, not just a caricature. Which is why the comparison of Leslie to Liz Lemon is so ridiculous.
On one level, it's understandable, of course. In real life, Amy Poehler and Tina Fey are friends, former
SNL
cast mates and movie co-stars, and both identify as feminists. They're also in the same age and race demographic and both play female leads on NBC sitcoms. When 
Parks and Rec
started, some articles even
implied 
that Amy Poehler's success was a threat to Tina Fey's, as if there could only be one funny woman on a network at a time.
But where Leslie Knope leads her department with skill and good humour despite the petty bureaucracy she often has to negotiate, Liz Lemon is a stress-eating, approval-seeking, baby-stealing mess who dates men who hate her, wears plastic bags as underwear, and is waiting for her real life (the one where she's married and therefore happy) to start. Tina Fey is charming enough to be entertaining while she portrays this nightmare of modern womanhood, and no doubt she makes a lot of Slanket-wearing insomniacs feel better about themselves. But Fey isn't just the star of this show, she's also its showrunner, and it's not clear what message she's trying to convey by turning one of the few overtly feminist characters on TV into a self-interested workaholic who always looks to her male boss for guidance. Like Community's insufferable do-gooder Brita Perry, Lemon's altruistic and sisterly impulses are often shown to be misguided, undermining not just the character, but feminism as a whole. Perhaps Fey is only trying to puncture the self-righteousness of the movement, but it seems like a weak target when there's so much misogyny she could be mocking.
Unlike Liz Lemon, Leslie doesn't just pay lip service to feminist ideals, or spout them in support of her own work goals, she sees political activism on behalf of the women of Pawnee as part of her mandate, and has set up a camp for underprivileged teen girls. And who else, when reluctantly roped in to judge a beauty pageant, would bring her own laminated scorecard with categories including "Knowledge of herstory" and "The Naomi Wolf factor"? (One of the most stealthy and brilliant moments in feminist TV history.) While both Liz and Leslie look to their male bosses for validation, Liz is unable to function without Jack's help, whereas Leslie is capable of managing the department without Ron's input, and usually does.
30 Rock frequently employs farce to make us laugh, but Parks and Rec is more lovable because it avoids the obvious and the outsized, creating funny moments by building on what we know about these characters and their relationships. From the second season onward, its lack of cynicism has been refreshing. Tina Fey is great at what she does, but doesn't have much scope, and doesn't do vulnerable well. Leslie Knope is unquestionably Amy Poehler's best role, and it's because she's restrained her silly side and concentrated on creating a character we can relate to.
Leslie (Poehler) and Ann (Jones)
One of the most overt ways Leslie's feminism is displayed is in her friendship with Ann, one of her most significant relationships.  The two women clearly care about and admire each other and are there for each other's freak-outs. I realized about halfway through season two that I was often clenched when I watched them together, willing them not to fall out. I was sad and shocked to recognize that there's an undercurrent of bitchiness in so many on-screen female friendships that I've started to expect it as standard. Portraying two women who like each other might be the most radical thing a sitcom can do.
I don't think there's been such a feminist TV character since the '80s, when, at different ends of the class and race spectrum, women like Clair Huxtable and Roseanne Conner challenged sexist expectations through the use of confrontation and sarcasm. The '90s saw some backpedalling among feminist characters:
Seinfeld
's Elaine Benes struck blows for equality by openly discussing periods and birth control and dumping a man who was anti-abortion, but she mostly showed contempt for her female friends and still bought into outdated gender expectations, like that a man should make the first move on a date. Murphy Brown was a strong, intelligent woman, and in her decision to be a single mother, became
the inadvertent enemy of conservative America
. But she ended up laughing off her early feminist activism as
mere youthful over-exuberance
.
Meanwhile, the
Friends
women valued their independence — Monica was the strongest proponent of the idea that Rachel should cut up her father-funded credit cards — but embodied a very Cosmo, "it's all up to the individual" post-feminist vision which presents issues of female empowerment (like standing up to sexist bosses and self-defence when your bestie's boyfriend gets handsy) as individual struggles, rather than the symptoms of the
kyriarchy
 they really are. But these women were paragons of feminist ideals compared to most sitcom women of the '90s and '00s, who re-created retrograde gender roles with husbands they disdained, nagging all the way, as on
King of Queens
,
Still Standing
,
Everybody Loves Raymond
, and many others.
Sexist tropes these downtrodden wives may have been, but at least they had voices. They've since given way to anemic characters like the women of How I Met Your Mother, where Alyson Hannigan's baby-voiced Lily sighs about the importance of everyone getting married and supports her husband in his dream of becoming an environmental lawyer, while her own ambition to be an artist is played for laughs. Worse, her friend Robin, a news presenter who loves hockey and beer, has her "unfeminine" interests explained by the back-story that her father wanted her to be a boy. HIMYM further plays on gender (and sometimes racial) stereotyping and employs sexist, sexually charged humor as Barney discusses his frequent conquests, saying debasing things which the audience is expected to forgive because Neil Patrick Harris is gay in real life and to complain would mean we didn't understand post-feminist irony. The same claims can be made by Two and a Half Men, where the (un)importance of autonomous female characters is telegraphed by the title, and The Big Bang Theory, where pretty blonde Penny is just a stereotypically sexy comic foil for a group of clever boys.
It's notable then, that not only is Leslie Knope an intelligent and capable character, but that these are qualities  admired by her colleagues, friends, and boyfriends. "Flu Season," the episode for which Poehler is Emmy-nominated, is one of Amy's, and Leslie's, finest moments. Charged with making a presentation to local businesses to sell them on the idea of the harvest festival, Leslie refuses to pass the responsibility to her colleague (and soon-to-be love interest) Ben, even though she's been badly hit by a flu virus. "It's not that I don't trust Ben," she explains. "It's that I don't have faith in Ben. And also I'm starting to forget who Ben is." She escapes from hospital, stealing flu meds from other patients on the way, makes a convincing presentation despite being dizzy and barely able to see her notes, and then collapses into a chair. "That was amazing…" says Ben, his face conveying his admiration. "That was Leslie Knope."
He's right: Leslie Knope *is* amazing. Over the course of three seasons, she's gone from a small-time, small-town government employee with delusions of grandeur to someone it's easy to believe could make a big splash on the larger political stage one day. I hope she does, and I hope we get to see it.
What's more, the popularity of her character signals an important change, a backlash against the backlash: the mainstream acceptance of a heroine who lives by feminist values and encourages others to do the same. But she's just one woman, and a white, able-bodied, cisgender, middle class woman at that. We're still in need of more diversity: in politics, and more importantly, on TV.
Diane Shipley is a freelance journalist and inveterate blogger with a special interest in social justice as it pertains to TV, books, and actual real life. Her website is www.dianeshipley.com, she tweets as @dianeshipley and she wants Amy Poehler for a BFF.